I have the pleasure of presenting to the music lovers the complete works of Fryderyk Chopin, a genius whose musical works made him the most recognisable Pole in the world. I have listened to his music almost ever since I was born, and at least since I listened to the radio broadcasts of the International Fryderyk Chopin Piano Competition in 1965. Chopin himself has been present in my family since the early nineteenth century – he and his family were friends with the family of my great-great-grandfather, painter Antoni Kolberg, the author of the last portrait of the composer painted in Paris in 1848. I was starting my label, Acte Préalable, with the initial intention of channelling my efforts to record only the forgotten Polish music. Over time, however, while I was meeting the right people at the right time, my intentions evolved and made me to decide to incorporate into the Acte Préalable catalogue recordings of Chopin's complete works. I was entertaining a friend of mine, Arkadiusz Jędrasik, in February 2005. My family had gone skiing and we stayed for a few days in my house. When people have a lot of spare time they tend to come up with all sorts of peculiar ideas. Mine was to record all the works written by Chopin, to mark the forthcoming two hundredth anniversary of the composer's birthday, employing just one Polish artist, as no Pole had done that before. Without thinking twice, I chose the exceptional and outstanding pianist, with whom I have recorded several fine albums, the one and only Joanna Ławrynowicz. The next thing I remember was intruding into her apartment. With grave faces we announced that there was a very serious issue to discuss. As soon as she heard what kind of 'hard labour' I had condemned her to, her (initially) terrified face lit up. There was not a moment's indecision whether to go along with my idea or not. The rest, as they say, is history. The project was launched in April 2005. Not everything has been so smooth, though. It took me some time to realise that some of the people I had hired for the project were quite unreliable, which made it impossible for us to make it for the two hundredth anniversary of Fryderyk Chopin's birthday. We had recorded all the works, except the songs and concertos, until the spring of 2010, we completed the works with orchestra in 2011, and we recorded the songs in October 2019. I am proud that I made all the recordings myself. Although I did ask for help from private and public institutions, e.g. the Ministry of Culture or the National Fryderyk Chopin Institute, a state-founded organisation whose specific aim is to promote the oeuvre of Fryderyk Chopin, all my requests were ignored and unanswered. I received huge help with the orchestral recordings by conductor Czesław Grabowski, to whom I would like to express my sincere gratitude. Without his involvement we would not have been able to record the orchestral works in Minsk, which incidentally makes Belarus more sympathetic and friendlier to our project than Chopin's homeland. Because the two hundredth anniversary of Chopin's birthday has come and gone, I decided to bringing out his entire output in March 1st 2020. I want to take this opportunity to thank Mr Antoni Grudziński, who granted us permission to insert fragments from his book Fryderyk Chopin. Przewodnik po życiu i twórczości (Fryderyk Chopin. The guide to life and works) in the booklets of our CD albums. I am extremely grateful to Joanna Ławry-nowicz, without whom the enormous talent and dedication in recording and editing this whole undertaking would not have been realized. A big thank you to all the artists who assisted Joanna Ławrynowicz with the vocal, chamber and orchestral works. I also want to thank Arkadiusz Jędrasik for his continuous support for this project, and also for all my other recording and publishing initiatives. Finally I must thank my beloved Magdalena Wolińska, without whose constant support the entire enterprise called Acte Préalable would not exist. Jan A. Jarnicki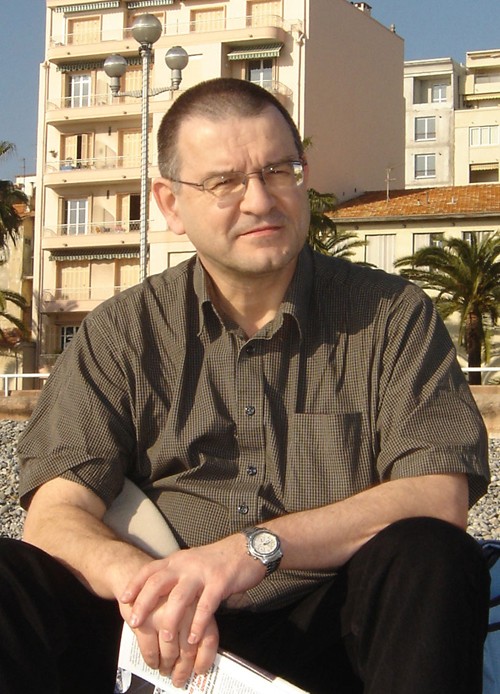 Oto oddaję w ręce melomanów nagranie dzieł wszystkich Fryderyka Chopina, geniusza, którego utwory uczyniły go najbardziej rozpoznawalnym Polakiem na świecie. Jego muzyka towarzyszyła mi prawie od urodzenia, a przynajmniej od transmisji radiowych Konkursu Chopinowskiego z 1965 r. Sam Chopin był obecny w mojej rodzinie od początku XIX w. – jego rodzina i on sam przyjaźnili się z rodziną mojego prapradziada, malarza Antoniego Kolberga, autora ostatniego, namalowanego w 1848 r.
w Paryżu, portretu kompozytora.
Zakładając wydawnictwo Acte Préalable początkowo chciałem poświecić się tylko zapomnianej muzyce polskiej. Z czasem, spotykając odpowiednich ludzi w odpowiednim czasie, moje założenia uległy ewolucji. Dlatego też postanowiłem wpisać do dokonań Acte Préalable kompletne nagranie dzieł Chopina.
W lutym 2005 r. gościłem przyjaciela, Arkadiusza Jędrasika. Moja rodzina wyjechała na narty i przez kilka dni byliśmy sami. Dużo wolnego czasu powoduje, że ludziom przychodzą nietuzinkowe pomysły do głowy. Mnie akurat zamarzyło się nagranie wszystkich dzieł Chopina z okazji zbliżającej się 200. rocznicy jego urodzin, i to z jednym polskim artystą, gdyż żaden Polak tego jeszcze nie dokonał. Bez wahania mój wybór padł na jedyną w swoim rodzaju, wybitną pianistkę, z którą nagrałem już wiele znakomitych płyt, Joannę Ławrynowicz. Natychmiast wprosiłem się do niej na spotkanie, pojechaliśmy i z grobowymi minami wkroczyliśmy anonsując poważny problem do przedyskutowania. Jej przerażona na wstępie twarz rozpromieniła się, gdy przedstawiłem jej propozycję skazującą ją na "ciężkie roboty". Ani chwili nie wahała się, by zaakceptować mój pomysł. I tak w kwietniu 2005 r. ruszyło nagrywanie dzieł wszystkich Chopina.
Niestety, do realizacji tego przedsięwzięcia zatrudniłem osoby, które z czasem okazały się nieodpowiedzialne. Dlatego nie udało się zdążyć z realizacją tego przedsięwzięcia przed 200. rocznicą urodzin Fryderyka Chopina. Wszystkie dzieła, poza pieśniami i koncertami, nagraliśmy do wiosny 2010 r., utwory z orkiestrą zakończyliśmy w roku 2011, a pieśni dopiero w październiku 2019 r.
Muszę z dumą zauważyć, że zrealizowałem wszystkie nagrania we własnym zakresie. Wprawdzie zwróciłem się o pomoc do instytucji prywatnych i państwowych, takich jak Ministerstwo Kultury, czy też specjalnie powołanego przez państwo do promocji dzieł Fryderyka Chopina Narodowego Instytutu Fryderyka Chopina, ale wszystkie moje prośby zostały zignorowane, nie raczono nawet odpowiedzieć.
W realizacji nagrań orkiestrowych ogromnej pomocy udzielił dyrygent, Czesław Grabowski, za co pragnę mu w tym miejscu podziękować. Dzięki jego zaangażowaniu nagraliśmy dzieła orkiestrowe w Mińsku. Tak to Białoruś okazała się bardziej przyjazna naszemu projektowi niż ojczyzna Chopina.
Ponieważ 200. rocznica urodzin Chopina już minęła, postanowiłem wydać jego dzieła wszystkie 1 marca 2020 r.
Pragnę w tym miejscu podziękować panu Antoniemu Grudzińskiemu, który pozwolił wykorzystać fragmenty swojej książki Fryderyk Chopin. Przewodnik po życiu i twórczości w książeczkach naszych płyt.
Jestem ogromnie wdzięczny Joannie Ławrynowicz, bez której ogromnego talentu i poświęcenia przy nagraniu i opracowywaniu całe to przedsięwzięcie nie zostałoby zrealizowane.
Dziękuję wszystkim artystom, którzy wsparli swoim talentem Joannę Ławrynowicz w dziełach wokalnych, kameralnych i symfonicznych.
Pragnę również podziękować Arkadiuszowi Jędrasikowi za ciągłe wsparcie przy tym przedsięwzięciu, a także przy wszystkich innych moich inicjatywach wydawniczych.
Na koniec muszę podziękować mojej ukochanej Magdalenie Wolińskiej, bez której bezustannego wsparcia całe moje przedsięwzięcie o nazwie Acte Préalable nie miałoby miejsca.
Jan A. Jarnicki