Afin que les oeuvres humaines accomplies durant les siècles ne se perdent pas dans la nuit de l'oubli, il est bon et juste de maintenir leur mémoire et de la léguer à la postérité.
Henryk Sienkiewicz
The Acte Préalable Publishing House is an unquestionable worldwide leader on the classical music market in terms of premiere recordings of Polish music. The label was founded in 1996 with a principal aim of promoting Polish classical music and the following figures attest to this dedication: over 400 CDs available in the catalogue, including over 100 Polish composers, of which over 50 were recorded for the first time, accounting for more than 500 Polish works, mostly first recordings, unavailable elsewhere. Our albums are recorded by the foremost Polish artists, being an excellent introduction into the Polish musical culture. What is more, the covers to our records present outstanding works of mostly Polish painting and contemporary photography. The booklet notes, written by distinguished specialists, provide in many cases an indispensable compendium of knowledge that could hardly be found anywhere else. Our recordings are popular with music connoisseurs around the world and are well reviewed by the international press.
Jan A. Jarnicki
17 June 2020 – celebrations of the 90th anniversary of the birth of Romuald Twardowski
The largest collection of 13 discs with his music in a digital version for 30 Euro
offer valid till December 31st, 2020
We are not afraid of the virus.
We were able to honor Chopin this year!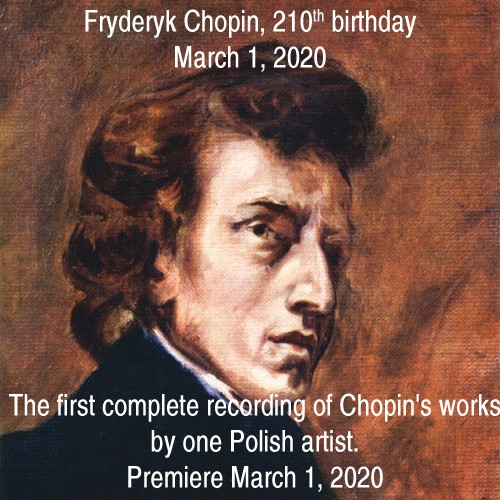 210th anniversary of Chopin's birth in March 1 2020

For the first time in Poland, a set of all the works of Fryderyk Chopin recorded by one pianist.
The recording of Joanna Ławrynowicz is now available.
Albums will be sold individually at a normal price or as a set of 17 CDs for PLN 400 delivered in Poland and Euro 100 delivered worldwide (including the shipping price).
Dowlnoad the catalogue (pdf file)
Since we are introducing our catalogue to online sales, some of the covers on the internet are not the same as the ones of the physical albums. Most of our CDs marked as "out of print" are available in digital version.
You can hear now:
Raul Koczalski - Piano trio no. 2 op. 88 –Tema con variazioni - Variazioni no. 5 & 6 – Lento & Ancora più lento (AP0476)
Józef Wieniawski - Piano Trio op. 40 - Allegro risoluto e non troppo presto (AP0469)
Józef Wieniawski - 8 Romances op. 14 - no. 1 in E flat minor (AP0474)
Józef Wieniawski - String Quartet op. 32 - Finale. Allegro energico e con fuoco (AP0468)
Louis James Alfred Lefébure-Wély- Marche in E flat major (AP0477)
Fryderyk Chopin - Nocturne in C minor op. 48 no. 1 (AP0312)
Fryderyk Chopin - Rondo in C minor op. 1 (AP0308)
Fryderyk Chopin - Étude op. 10 in C minor no. 12 (AP0307)
René de Boisdeffre - Trois Pieces pour clarinette et piano op. 20 - Piece dans le style ancien (AP0464)
Aleksandr Garbal - Concert Etude (AP0465)
Bernadetta Matuszczak - Resurrexit (AP0466)
Joachim Kaczkowski - Violin Concerto no. 2 in B minor op. 17 - Romance. Adagio (AP0470)
Adam Wesolowski - Euphory Concerto - Allegretto con umore (AP0471)
Raul Koczalski - Piano Concerto no. 5 in D major op. 140 - Adagio (AP0503)
Raul Koczalski - So war's, mein König (AP0601)
Counterliczniki.com